We are very proud and excited to announce that our dear friend and team member, Juho Partanen, can now officially be addressed as Dr. Juho Partanen!
Juho has been with Export Maker since the beginning of 2022. He has an extensive, international background – having lived and worked in Finland, Sweden, the Netherlands, France, Spain, and the United Arab Emirates. He has established several global sales & service networks in B2B, with a great expertise in management consultancy & business development, P&L leadership, full SCM & operational leadership, automotive quality systems and strategies, digitalisation strategies, among many others. Additionally, he has ample experience in several industry sectors, from the automotive industry, to off-highway machinery and devices, the energy & power industry, the technology industry, among others. He has been a doctoral researcher at the Paris School of Business, which he now recently completed.
On the 9th of January, he successfully defended his thesis about the "Decarbonization (r)evolution of the automotive ecosystem" at the Paris School of Business for his Doctorate of Business Administration.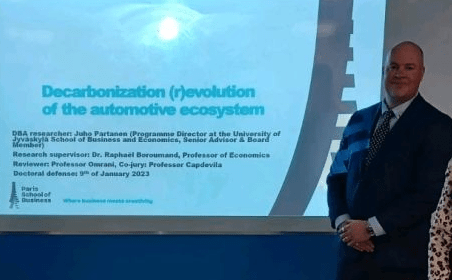 FROM RESEARCH TO A DECARBONIZATION ROAD MAP
Partanen's dissertation utilised both quantitative and qualitative research. With access to the material of a great number of interviews (174.000!) from the German consulting company Ronald Berger, as well as data from the research Group including the University of Michigan, a model of consumer behaviour was built.
Aspects that were studied included, for instance, how people in different countries, in different age groups and locations, value electric-, hydrogen-, and hybrid vehicles. For his research, 17 thematic interviews were conducted with several different interviewees, e.g. automotive OEMs, the energy industry, automotive system suppliers (Tier-1), traffic legislators, automotive industry associations, as well as a globally leading software company that supplies, among other things, digital platform solutions for the automotive industry. The dissertation accumulated to 195 pages and the research resulted in a decarbonization road map aimed toward the automotive industry and all actors involved.
A STRONG FUTURE OF ELECTRIC CARS
Based on the research, Partanen believes in a strong future of electric cars, but sees also a clear need for technological neutrality – meaning developing all alternative trajectories forward. As vehicles become larger with higher demands, i.e., machine weight, daily operating hours and increased duty factor, batteries become non-optimum alternatives.
Considering the Net Zero target, also the full value chain must be tackled (i.e., mining of raw materials and logistics chain for materials, components, systems and vehicles). This means, for example, that HD trucks, off-highway segments and shipping also need to be decarbonized. This calls for technologies suitable for very arduous environments in remote locations. Here Fuel Cells (on-highway) and internal combustion engines (off-highway and shipping) using low- or non-carbon fuels such as 2:nd generation biofuels, H2, e-diesel or e-methane, may be the best possible solution.
AUTOMOTIVE TECHNOLOGY INNOVATION BRINGS ALONG CHALLENGES AND OPPORTUNITIES
Automotive technology innovation has been accelerating significantly, as new concepts and changes arise. Naturally, this comes along with its challenges, but it also brings along great opportunities. Wealth of R&D work is still required related to e.g., battery technologies. Successful technologies must be marketed competitively in cost, user requirements, lifecycle emissions, and lifecycle efficiency; must ensure domestic/regional energy security; and must consider societal impacts related to manufacturing and the acquisition, reuse and recycling of critical materials.
According to Partanen, merely developing electric cars does not suffice. You cannot rely on just one technology – different technologies have to be developed. Important pioneering work is done, and solutions are being developed; but there is a need for technological innovations related to both business models, as well as legislation. Legislation must be predictable, harmonized, and enable to focus the resources on the development of New Energy technologies.
"We should also make affordable electric cars", says Partanen. Additionally, we need to think about how people actually use cars in their everyday lives, looking at it from a practical point of view.
Furthermore, Partanen believes that passenger cars will be strongly electrified in the (near) future – the EU Parliament has approved the Commission's proposal that from 2023 onwards, carbon dioxide emissions of new passenger cars and vans should be zero grams. However, Partanen highlights that it is not just about carbon dioxide – combustion engines have many other air-quality related emissions (e.g. particulate matter, nitrogen oxides, etc.)
"If we want to clean the automotive industry from carbon dioxide, it is not enough for just the automotive industry to make a change. There is also a need to secure the supply of green energy and the availability of materials. The legislation needs changing in the right direction and overall, some type of a renaissance of nuclear power is needed, with a lot of small, preferably mass-produced nuclear power plants. Renewable energy requires stable base load, as well as short- (e.g., batteries) and mid/long-term storage systems (e.g., hydrogen)." – Dr. Juho Partanen
---
AN INTERVIEW WITH DR. JUHO PARTANEN
We were eager to sit down and ask him some more questions about his research and research findings! You can read the interview with Dr. Juho Partanen here:
To start off with, working as a Programme Director Executive MBA at the University of Jyväskylä, a visiting lecturer, a Senior Business Advisor, a board member of different companies, it sure seems like you have a lot on your plate. How did you manage to also do- and complete a PhD on top of all that?
This is a highly relevant topic – also philosophically. The late Finnish pioneer of digitalization and knowledge-intensive work and economy Esko Kilpi described that knowledge work can be understood as investments of human capital following the same logic we have used to understand financial investments. Considering work and the art of management (as a way to allocate resources) the industrial era was dominated by a need to conserve the scarcest resource capital whereas today by far the scarcest resources is creativity and innovation. All critical challenges are tackled in a network rather than in closed offices or organisational hierarchies which mean the network is the main architecture of work (where the cognitive load is distributed). Looking at it this way means that productivity is a result of creative learning rather than doing more of the same, meaning that increasing the quality and speed of learning matters more than increasing the quantitative output of work. I see my approach as a modest example underway in the implementation of the new paradigm.
Seeing as you have so many expertise and work experiences, what made you want to choose and focus on this exact topic?
I was originally planning to focus on complexity sciences in an organisational and leadership context. Complexity sciences offer valuable analogies on how to understand organisations, change, strategic planning and the role of leadership from a pragmatic perspective. However, I leveraged the network of ca. 10 professors and emeritus or emerita professors which made me understand that, by leveraging my interdisciplinary background in the international automotive industry, I could perhaps create something more valuable as a contribution against climate change, the loss of biodiversity and for the sake of sustainability in general.
What do you reckon is the most important or most fascinating result you encountered? Or key takeaway from your research?
It clearly is the desperate need of better, interdisciplinary, science-based decision-making, which takes a holistic but also pragmatic perspective vs. short-term political agendas. In the New Energy and auto-industry domain it means concepts such as LCA, Well-to-wheel analysis, technological neutrality, and finally that when exploring the optimization space also non-ideal solutions are needed and make a difference. E.g., natural gas is an important source of greenhouse gas emissions, however replacing coal power plants with natural gas makes sense as part of the energy transition (more favourable hydrogen-to-carbon ratio).
Who do you think will be the most interested in your research and/or who do you think should read it?
Automotive, resource, energy and logistics industry, industrial associations, legislators and of course researchers and others interested in exploring energy and digital transition of the automotive ecosystem.
Did your research questions evolve during the whole process?
I would not say that the original research questions evolved but the focus and accuracy increased over time. Also geopolitical shifts made a big difference, i.e., seeing the Chinese Belt and Road Initiative (and industrial strategy in general) from a more pragmatic and realistic perspective.
Were there any surprising research findings?
In a way the most surprising thing was to see how well-aligned various actors within the new and emerging auto-industry ecosystem are. In many ways, the legislation is not always going in that direction and sometimes can in fact backfire, despite good targets.
Which gaps did you intend to bridge with your research and why is it so significant for this day and age?
Taking a more interdisciplinary and holistic picture on the digital and energy transition topic vs. the usual (but important) reductionistic and atomistic research orientation. The work combines quantitative and qualitative analysis (mixed-methods) and leverages philosophy of science, psychology and sociology, technical physics, chemistry and thermodynamics, materials science and metallurgy, and of course managerial disciplines, etc.
Lastly, how can your research now be put to practice or, how can we start making changes?
The research presents a decarbonization roadmap which is a synthesis combining the results of the wide consumer lens analysis (N=174,000) and the semi-structured interviews of key decision makers around the new auto-industry ecosystem (OEMs, Tier-1 suppliers, energy industry, resource industry, software industry, logistics industry, legislators and academia).
Once again, we would like to give a hearty congratulations to Dr. Juho Partanen for this impressive achievement.
If you have any questions related to his thesis, or the automotive industry altogether, feel free to directly contact him at juho.partanen@exportmaker.fi